Friday, February 03, 2006
at one moment, i can be extremely happy. on another, i go back to wallowing in my sadness.
another shit that bothers me.
........and then someone said (i think it was me), stop telling people how special they are to you then just ditching them.

and then he said, can't i tell several people they're special and treat them that way (without addressing the ditching part).

then several people said NO!



---

sidebar: i don't tell people "you're my best friend." i tell "you're one of my best friends." maybe it's semantics, but i don't set up people to think they're number one when they're not. but that's just me.

---



to continue:
more talk about make up the friendship with deng, and he still insists it's no longer his problem.

but oh, did you know that he had a melrose place round-robin thing going on LAST SCHOOL YEAR at that org he's in? when exactly did you break up, deng? had i known about it earlier, i wouldn't have wasted my breath telling him to make up with you.

and then i said, stop leading people on, like the way you're treating this one girl.



---

sidebar: i had already told him this before, and his response was, i'm not leading her on, kung yun ang ikaliligaya nya [na maghabol], bahala siya. every girl has a [PDL].
i said, wtf do you mean, not every girl wants you!
he said, well i mean, they're just chasing after a guy they can't have.
i said, well thank god you're not my [PDL].............................................


---
look im not stupid, i know very well that corey was referring to me as this one girl. this is sad but i don't i know who to believe anymore. i don't want to be bothered about this now because everything about mat and me is just getting better. im not saying magiging kami because that's really stupid.it's like burning you tongue twice in one meal. im just saying things are a lot better now. we're both happy with the status of our friendship. we're not thinking about relationships anymore. maybe im not.i think he's still on the search, basta ako sigurado na okay ako with everything.
i've been saying this over and over again. i trust mat. even if it's kind of true that i get hurt because of him sometimes. and like i've said, i am willing to endure a little unhappiness only if it's for the better, or to save our friendship. ayoko sanang makinig kela corey dahil i have this notion na pinagaaway nila kami. i trust mat very much and i believe every word he says. at least i try to because i know him better. di ko naman din tlga kilala mashado yang sila corey. what im trying to say is, im going for the person who means more to me. it's not a biased shit because of my feelings for mat. im setting aside my feelings now. i only pray mat's being honest with me. im seriously putting a lot of effort in trying not to be affected by whatever corey and deng is trying to say. i don't want to feel bad right now because today is one of the nicest days in my life. i don't know.i just feel so happy today. im just scared because this overwhelming feeling could probably be an entrance to sadness once again. i don't want to be sad again. it's too bad i actually feel like crying now.
kung totoo ka sakin, maging totoo ka. hindi ko naman hinihingi yung pag-ibig mo. gusto ko lang maging totoo ka. yun lang yun. :(
oo ginusto ko gawin lahat para sayo to the extent na mukha na akong kawawa. noon ginugusto ko lahat yun. pero ngayon, alam ko nang dapat kong mahalin yung sarili ko. i don't want people feeling sorry for me. especially people i don't know. if you don't want me to doubt you which i wouldn't want to do, all i ask is for you to be true to me. i don't need your love because i can't ask for it. i will have to earn it in time. Honesty is all i ask.
in the end, i don't want to find out i was fighting for nothing.
(7:39 PM)
if loving you means having to endure a little unhappiness, i will.
(1:23 AM)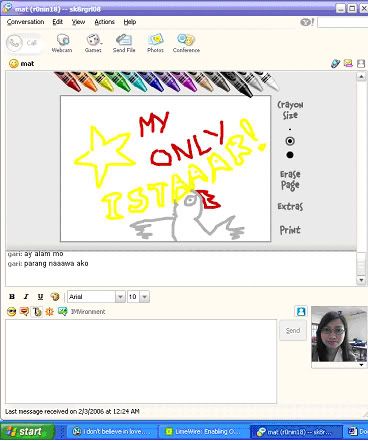 awwwwwwy.♥
yes you are my only star too. :)
(1:10 AM)