Friday, January 18, 2008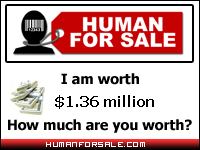 HumanForSale.com -
How much are you worth?
I am smarter than 87.24% of the rest of the world.
Dumb Test
my miming is sick. poor mingming.
i miss the bundle of joy. :(
(6:14 PM)
1. Is it cute when guys kiss you on
your forehead?
♥yes hehe
2. A big poofy dress or a short
party dress?
♥it depends on the occasion
3. What would you do if you received
a long love letter?
♥read it and keep it
4. Group dates or single dates?
♥kahit alin. works for me.
5. Do you hate it when guys act
different around their friends?
♥not all of the time, but most of the time. he gets to cocky pag sa harap nila. feeling niya im supposed to bow down to him.
6. Are diamonds a girl's best friend?
♥not really.
7. Is your hair up or down today?
♥down.
8. Do you straighten your hair
♥my hair is straight and limp hehe
9. Favorite mascara?
♥no particular favorite because i really don't use mascara
10. Do you get your nails done?
♥i used to. i just don't have the time to have it done.
11. Small or large purses?
♥mmm gusto ko ng large pero lagi ko nakakaligtaan bilhin.
12. In your purse, what are your must
haves?
♥cash and id. haha if it were a bigger purse, sana may pressed powder, lipgloss and blush.
13. Jeans or sweats?
♥ Jeans
14. Do you wear clothes/shoes/jewelry
that's uncomfortable?
♥my uniform. yak natapos at natapos nako sa pag-aaral, napakalousy paren ng fit ng uniform ko sakin.
15. Do you text message a lot?
♥haha oo nung nagkaboyfriend ako. requirement daw ang magtext.
16. What would you do if you got
pregnant?
♥ cry hahaha.
17. What's your favorite color?
♥ yellow
18. Heels or flats?
♥ both. flats for school, heels for night out.
19. Did you ever cry during a
romantic movie?
♥ hmmm yep
20. Would you ever leave the house
without make-up on?
♥mmm pag ung major nagmamadali na. pero i try to put at least powder, blush and gloss.
21. Walmart or Target?
♥target palang napupuntahan ko hehe
22. Do you wear collared shirts?
♥ hmm dati. ung uniform ko pala collared shirt hahaha
23. Do you like preppy boys?
♥ mmm... no. im more for the scrappy ones.
24. Do you think lip gloss is the
best?
♥ oh yes.
25. Do you own any big sunglasses?
♥ nope pero sana meron ako pag may pera nako hehe
26. How long does it take you to get
ready in the morning?
♥ 30 minutes ok na
27. Do you like to wear band-aids?
♥ haha ung mga bilog at square oo
28. Do you like skater boys?
♥ yak no.
29. Do you often wish there was
something you could change?
♥ yes. a lot of things.
30. Gold or silver?
♥ silver
31. Do you like to receive flowers?
♥ yes pero di ganon ang boyfriend kaya sige na nga.
32. Do you like surfer boys?
♥ i've never met one pero ung mga napapanood sa movie shet oo hahaha. abs.
33. Do you dress up for the holidays?
♥ yep
34. Do you like to wear dresses?
♥ if i had some i would wear them/
35. On a scale of 1-10 how much do
guys confuse you?
♥ 10
36. In the last 48 hours have you
hung out with a guy?
♥ but of course.
37. Would you date a guy shorter
than you?
♥ haha no.. pag nagkatuluyan kami bwisit ung mga anak namin unano.
38. Do you like to hold hands?
♥ yes :)
39. What is the youngest you would
date?
♥ i don't like younger boys
40. What is the oldest you would
date?
♥ 2 years older
41. What do you notice when you first
meet a guy?
♥ wit and sense of humor.
42. Is it hot when guys sweat?
♥haha
43. What is the best feature in a guy?
♥ the way he carries himself.
44. Do you like making eye contact?
♥ no. i get shy e. hahaha
46. Would you kill for chocolate?
♥ no
47. Did you ever spend all day/night
getting pretty for a guy?
♥ i did but we never ended up together.
48. On a scale from 1-10 how fun is
shopping?
♥ 10.
49. Do you freak out if you miss your
favorite show?
♥ no
50. Do you yell a lot?
♥ yes
51. Do you wear sweatpants/pajamas
to school/work?
♥ no
52. Have you ever dressed unlike
yourself to impress a guy?
♥ haha hmmm no
53. Do you write a lot of mushy
love poems?
♥yuck yes back in highschool.
------
pagkatapos ng lahat ng gawain chaka lamang ako magbabalik dito. paalam muna munting blogspot. :)
i love you panda.:D
(10:56 AM)